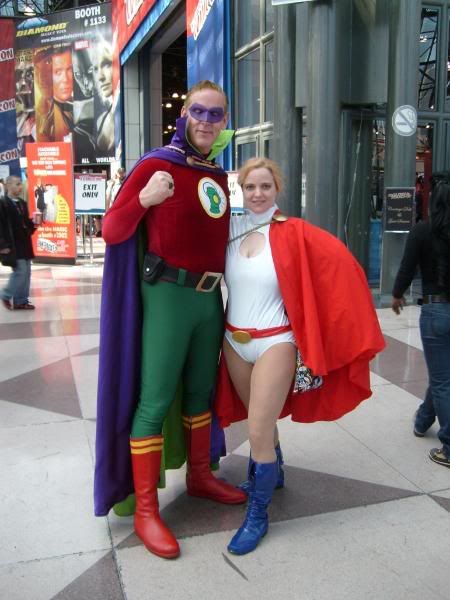 This was the best for NYCC (mind you only the third year and my second time going). I'm rather pissed about the plans for next year already because after this wonderful and succesful April Con, the organizers have decided to move the 2009 Con back to early FEBRUARY! They are frakkin crazy!
I missed a LOT somehow including Seth Green which I'm oh so bitter about. However, we did see Blair Butler twice and stalked her. I also did my customary tormenting of DC's Bob Wayne; he got me back plenty when he saw I had changed into a Marvel costume for a contest. *guilt *
Nonetheless, here's the cool stuff I got to see:
There was this incredibly accurate Terminator costume. Luckily we caught the guy walking down a hallway. The T-shirt was even exactly right.
There were both versions of Leeloo from the Fifth Element but this costume I happen to find more impressive than the white bandage one. I just love the pants so much!
This Lois & Superman were actually at the DC booth which makes me believe they were hired. Both of them were tall and built like actors.
It's pretty hard to pick favorite costumes but I'll only base my opinions on the ones I saw in person. I've gone through a few galleries and seen other ones that I never actually saw including an impressive Chewbacca and Black Manta. To see my entire gallery, go to
Photobucket
. For personal faves I'd have to say something like Green Lantern Alan Scott (this man not only had a great suit but he's the size of a superhero), Static Shock (original & great to see plus he had that unfolding hover disc!), and Terminator.
I love to see lesser known/less popular characters like Domino and Spider-Woman. I wish I would have seen Belle Chere's Anna Mercury in person because I love it and issue 1 only came out a couple weeks ago. But I did see Belle as Black Cat (with black accessories at the contest) and as Spider-Woman. The Gwen Stacys were both excellent. I think it was tough to chose between them. The shorter one in the olive coat won both the Marvel contest and the Gwen look-a-like contest. I was the only one that presented myself as a Skrull and I still didn't place as a finalist.